Churches and Capels on the Air – 2013
---
Members of the Derby & District ARS arrived at the Church Hall of St. Osmund's Church in the Wilmorton area of Derby on Saturday 14th September. Dave G1VAB was the first on site and the first job was - no, not a cuppa, but to put up a mast for the 40m dipole. The RF up the coax would be coming from the Society's FT990, and a further mast was put up with a dual-band collinear where we generated RF from the Society's FT897. Clive 2E1HVZ and David G8QZ turned up and set about sorting the station inside the Church Hall, removing trip hazards etc., to ensure safety.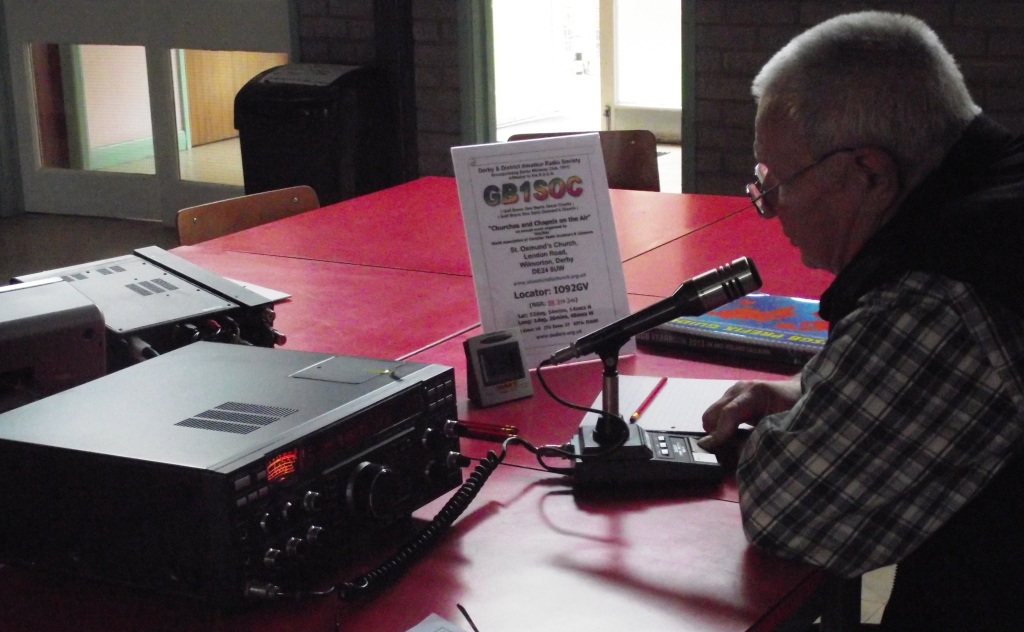 After putting the station together Clive got the kettle on and THEN we had a cuppa – a decent one too! We were on air for 09:00GMT but things were a bit slow on HF (another cuppa? Yes please Clive) but by hunting up and down the 40m band we started to pick up stations, first up on the north coast of Scotland, the next being Cornwall (well if you insist, Clive another cuppa would be great!) with closer contacts not being heard until later in the day. We bagged 17 contacts on HF, not a big figure by any stretch of the imagination (Thanks Clive, just what I wanted. Erm – where's the you -know-what? Ah. Thanks!) but then we had visitors with who we enjoyed talking to regarding the station, what we were doing, what CHOTA is and so on. Good PR and that's part of what we should be doing anyway. What was needed really was someone with the sole task of talking to visitors. Something for the next 'equipment list' update!
The VHF desk was collecting the odd station that popped up on 2m but these were very few and far between so Dave G1VAB wasn't too stretched in putting them in the log – then just before we closed the station we had a veritable pile-up – four stations one after the other! Wow! But the question is: Did we enjoy ourselves? Despite the many cups of tea – or maybe because of – we all agreed that it had been worthwhile getting the station on the air even though there were only 23 stations in the log. We'd enjoyed ourselves that's for sure. Next time, more milk for the tea – and a mashing rota so Clive has a rest from tea-bag drowning!
Thanks to John G3XYF for organising the event on behalf of WACRAL, to the people of St. Osmund's Church who readily host GB1SOC each year, and to members of DADARS for their support.
Dave, G1VAB
Photograph of GB1SOC (CHOTA station - 2013)