International Museums Weekend – 2013
---
I'd been giving thought as to where DADARS may operate a station from in Derby as the Silk Mill Museum, "Derbys Museum of Industry and Heritage" closed its doors in April 2011. Then an idea suddenly occurred that we have in the city a world-famous ceramics factory who have a museum of their old patterns and examples of how things have changed in the 300+ years of their existence. I made an approach to them, they thought about it, and then said yes. They'd also taken it one step further and organised a Family Fund Day for their employees too, with their Sales Director selling barbequed burgers and sausages.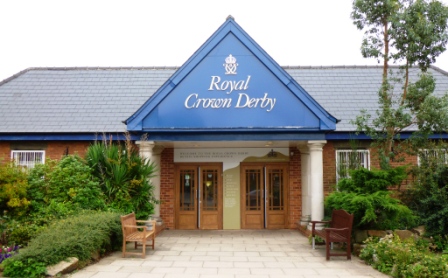 I'd applied for a GB callsign and was pleased to have GB1RCD – the RCD, in case you hadn't guessed, being for 'Royal Crown Derby'.
International Museum Weekend takes place over two weekends (don't ask – I don't understand it either, but hey.) but we were only to take part on Saturday 15th June, the first day of the four. We were to establish the station outside the shop in their car park – which was tarmac'd so that meant no guy pegs to hold the gazebo down. The ingenuity of amateurs came up with a solution in that the two legs facing the stiff breeze on the day were put into mast drive-on units and Davis G8QZ's car was parked over both units. Sorted. Walls were erected, aerial (half-wave dipole for 40m) erected, and the Society's FT897 put to use.
Access was only available from 9:30am so we had to get everything set, cars parked in a way to hold the gazebo down, and into operating mode as quickly as possible. Coffees were available from the café, as we some superb cakes!, and as previously said, burgers and hot dogs. Amazing we got any stations worked considering the delights on offer, but we did work several "IMW" locations and just enough for us to claim an award for the Society.
We must have made a good impression with those in relatively high places within their organisation as we've been asked to go along for another occasion where we've been promised an inside location as the gazebo nearly took off more than once and probably 80% of the time I was holding the gazebo down whilst David G8QZ and Clive 2E1HVZ were operating and logging respectively.
By 2:30pm the visitors had dropped onto only just a trickle so we packed everything up before it all blew away for good
Go back there again? Yes, definitely – especially if we're to operate indoors! Thanks to Lisa and Paul at the Royal Crown Derby factory for their assistance and enthusiasm and to those who put the station on. No-one was available to operate on 22nd, the following Saturday, so we only had one day of using the callsign GB1RCD. Here's to next time!
Dave, G1VAB