IN AT THE DEEP END! - Richard Buckby G3VGW (ex ZD8RB)
---
I first got interested in amateur radio as a young schoolboy in about 1956 when I was tuning around the short wave bands on our old domestic valve radio receiver. I came across a station on 40 metres AM in Scotland talking to a station in Nottingham and that sparked off my interest. I was given an R1155 ex RAF receiver for my birthday and eventually progressed to an HRO. I passed the Radio Amateurs Examination in 1960 but at that time there was no such thin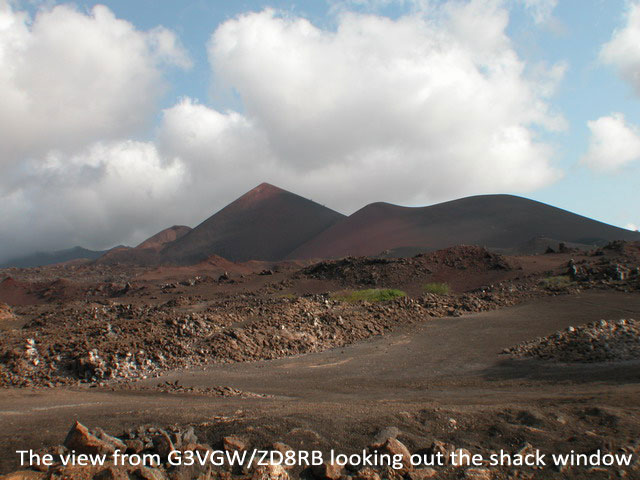 g as a class B licence, so I needed to pass the 12 wpm morse test before I could get on the air.
I was living in Corby in Northants at the time where there were no other amateurs and no radio clubs. I attempted to learn morse on my own, listening to CW stations and buying a G3HSC morse record. I kept getting up to about 8 wpm and then giving up, it was most frustrating!
In early 1966 I heard that I was going to work at the BBC relay station on Ascension Island in the South Atlantic so I felt that I must get a licence from such a rare DX spot. I was on night shifts at the time at the BBC Woofferton station with G3KHI, who was an ex ships radio operator, so he kept me hard at the morse practice and I eventually passed the test just two days before leaving the country. I posted off my application for a UK licence on the way to the airport.
When I got to Ascension I went to the Administrator's office and was told that no qualifications were necessary to get an amateur licence and there was not even a fee payable! I was duly issued with the call ZD8RB, so I had a rare callsign but no equipment. The following Sunday we visited the NASA space tracking station on the island, our guide was Ed, ZD8ES and when he heard that I was newly licensed, he suggested that I use the club station there. The equipment was the full Collins S-line with a 1kW linear and tri-band beam on top of a mountain. It was a Sunday afternoon, 15 metres was wide open and I had a rare callsign, so it was really a case of in at the deep end! I had always imagined that my first QSOs would be as a G station talking to the locals on top band, so this was quite a contrast. By the end of the afternoon you can imagine I was getting quite well practised in handling pile-ups!
Eventually my Racal RA71 receiver arrived (yes - RA71, not RA17 - but that is another story!) and I ordered a KW Vespa transmitter, which used a single 6146 and ran about 90 watts. In the meantime, Tom Venn, ZD8TV kindly offered me the use of his station, which featured a KW2000 and tri band beam, which was set up in a shed in the middle of the English Bay construction site. The BBC senders were not then operational and there was no QRM at all and of course no TVI! When my transmitter eventually arrived I set up my station in my room in the northernmost hut at English Bay yards from the sea. With several miles of volcanic clinker in all directions and plenty of wire still lying around, left behind by the pre-war English Bay Guano Company, I was able to put up long wires in all directions, with no planning restrictions to worry about!
The only other BBC man active at the time was Tony, ZD8ARP(G3LNP) who was operating from Two Boats, in the middle of the island, with a very long wire that ended somewhere up the foothills of Sisters Peak. Tony regularly called into the DX net on 40 metres that was hosted by GW3AX. Tony was so strong into the UK that he was accused of being a pirate and his reluctance to send QSL cards only added to the doubts about his authenticity!
Later in 1966 the rest of the BBC contingent arrived closely followed by a large party from that secret place in Cheltenham. Paul M. Geldart, who had taught me morse, took up residence at Two Boats and decided to take up amateur radio again and obtained the call ZD8PMG. He did hold a PMG's certificate, so his callsign was doubly appropriate! Bill Cairncross, the local boss of the "Shhh" brigade, came on the air from "Knob's Hill" at Two Boats with the call ZD8CX and was very active. Bill invited all the ZD8's to his house one evening and we took a group photograph and then proceeded to go on the air from Bill's rig, each working one very confused W station, so he had something like a dozen ZD8 calls in his log in a period of about 20 minutes!
Keith Hollow, ZD8KH who was with Cable & Wireless in Georgetown, was at that time about to be transferred to St. Helena, 700 miles to the south. He was engaged to a girl in England. It was arranged that she should sail out to Ascension in the much missed "Capetown Castle" liner, come ashore, get married to Keith in Georgetown Church and then they would rejoin the ship and sail off to St. Helena. They took no chances on the ship leaving without them, by inviting the ship's captain to the ceremony! Keith soon got on the air as ZD7KH and we started the "South Atlantic Net" which was soon expanded by the addition of the late Alan Hemming, ZD9BE, the Postmaster, radio operator, and everything else from Tristan da Cunha. This net took place mainly on 20 metres around midday, when the skip was short, but sometimes an Italian would stumble on us and could not believe his ears to hear ZD7, 8 and 9 all at once!
There were quite a few amateurs at the American Base, some of whom operated from the ZD8AR club station adjacent to the runway. Al Blancett, ZD8AB had a very nice set-up on the top of Cross Hill and was very friendly. I still have the briefcase he gave me when my own fell apart. John Beck, ZD8J, put the island on the air on Top Band and was very popular, although the high noise level from the African thunderstorms and various sprogs from Volcano Radio meant that although he could be heard very well, he had trouble hearing stations calling him. Probably the most active American amateur on the island was Al Klapetski, usually known as "Ski" and hence his call was ZD8SKI. His ambition was to retire and open a marina in Corpus Christi, Texas and he spent many hours talking to his partner in this venture back in Texas on 15 metres, much to the frustration of many people wanting to work a ZD8!
They were happy days. Now I just operate a humble G station.
73 Richard G3VGW